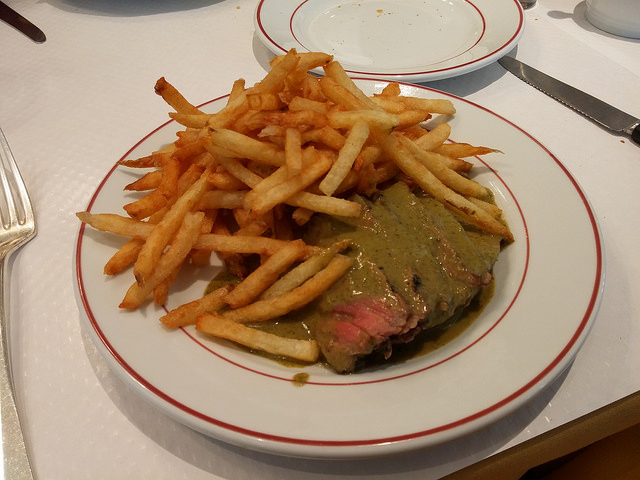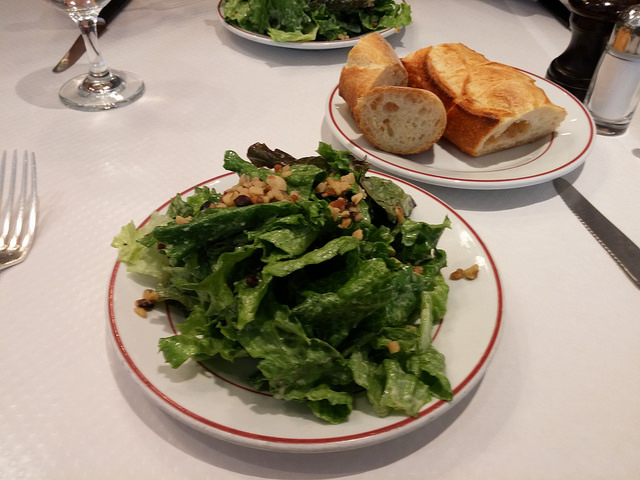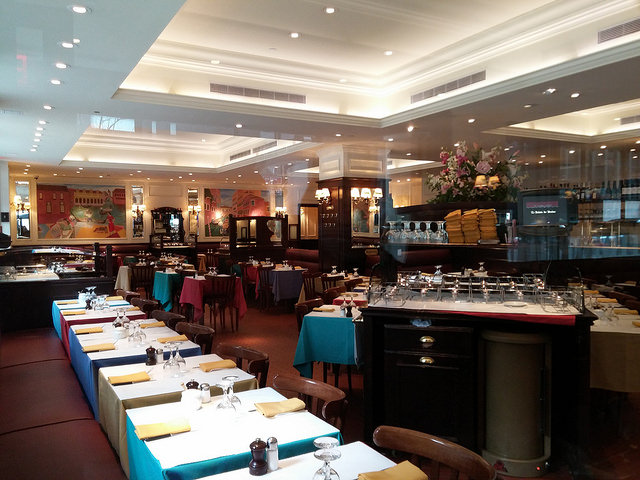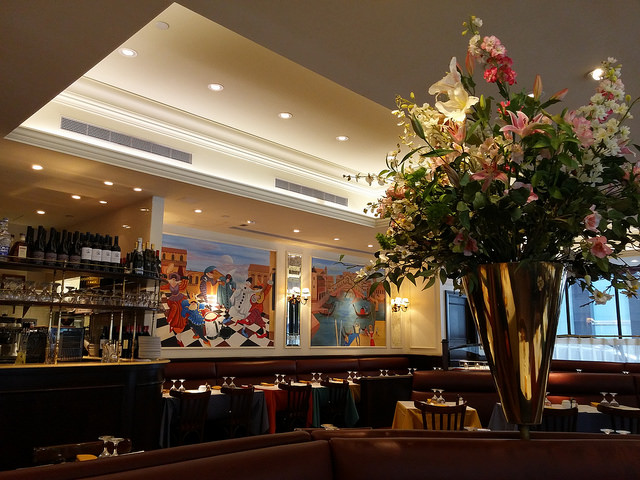 뉴욕을 대표하는 음식 중의 하나가 스테이크 아니겠습니까? 그만큼 다양한 고기집이 많은데요. 그 중 나름 꽤 특이한 곳. 프랑스 파리에 본점 있고 뉴욕과 런던에 지점이 하나씩 있는 Le Relais de Venise L'Entrecote 다녀왔습니다. 수년 전 어느 블로그에서 뉴욕에 이런 곳이 있구나 하는 걸 알았습니다. 그때는 $24였었는데... 이후 따로 올 일이 없었다가 요즘 고기고기하는 아들내미 핑계대고 다녀온 것이죠.
점심과 저녁을 제공하는데 메뉴는 딱 하나입니다. 이름이 좀 길죠. Trimmed Entrecote Steak "Porte Maillot" with its famous sauce. French Fries and Green Salad with Walnut. ($29.95) 당연히 주문할 때 뭐 먹겠냐고 안 물어보죠. 어떻게 구워줄까? 만 물어봅니다. 그리고 와인 뭐 마실래? 세명이 갔으니까 당연히 세개. 모두 미디엄 웰로 통일. 하우스 와인 한잔 주문했습니다.
샐러드는 평범하고 신선하고 맛있었습니다. 고기를 처음 받아본 소감은 "애개 이게 다야?" 스테이크라면서 뭔놈의 감자튀김을 이리도 많이 주나 싶었죠. 소스도 이게 고기소스인지 감자소스인지 헷갈리게 많이도 부어줍니다. 가르쳐주지도 않았는데 스테이크는 자르는 맛으로 생각했던 아들내미는 자를게 없어서 실망했구요.
가격대비 호불호 나뉠 듯합니다. 30불에 이게 어디냐 vs 이게 무슨 스테이크냐. 흔히 말하는 정통 미국식 스테이크 와는 거리가 많이 있습니다. 뉴욕에서 먹는 스테이크로는 비추입니다. 그냥 조금 이국적이지만 부담없는 분위기에서 가볍게 점심으로 먹는 간단 스테이크 정도라고 생각하시면 될 듯.
홈페이지: http://www.relaisdevenise.com/newyork